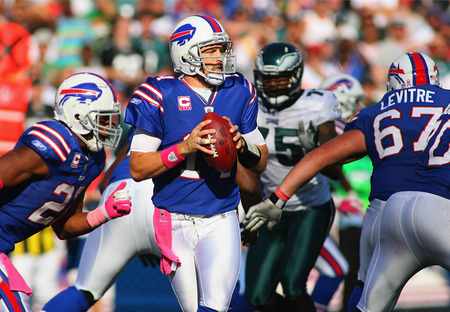 While we were out, the Buffalo Bills have been in the headlines coming off their bye week.  They lost Shawne Merriman for the season with an Achilles injury.  Kyle Williams remains sidelined with a foot injury and apparently it's serious enough to the point where if his foot doesn't respond to an extended period of rest, he could be also be done for the season. But all is not lost.  Today, they welcome back Chris Kelsay.  Earlier in the week, they announced a brand new contract extension with Ryan Fitzpatrick.
Before the Bills get back to football later on this afternoon, here are some of my thoughts regarding the state of the Bills and what has transpired over the past week:
* I can't fault the Bills for taking a chance on Merriman and seeing if he had anything left from this terrorizing days in San Diego.  Clearly, with Merriman going on the injured reserve for the second straight season, the gamble backfired.  Buffalo never got close to the bang for their buck.  A year ago, he lasted about 15 minutes.  This season, he played in five games and recorded just one sack.  My best guess at this point in time is that we won't see Merriman in Buffalo in 2012.
* It's hard imagine how far from grace Merriman has fallen.  Once the most revered pass rusher in the NFL, he began his career with 39.5 sacks in his first three seasons with the Chargers.  Now Merriman Version 2.0 is now a shell of his former self with just five sacks total in the past four seasons,which is really tough to swallow.  It almost seems like that's Buffalo's luck.  They get one of this past decade's most fearsome defenders at one point but only after injuries have stolen his career away and now he cannot be counted on to stay healthy.  It's evident Merriman no longer has quickness or explosiveness qualities desired in pass rushers, which begs the question if his NFL career is coming to an end.
* Despite Merriman's absence for the rest of the season, I don't think Buffalo's defense is better or worse off.  With him on the field, they were having problems rushing the passer and without him that trend is likely to continue.  Getting Kelsay back will help some.  Second year linebackers Arthur Moats and Danny Batten have seen their playing time increase in recent weeks with Kelsay and Merriman sidelined, so I expect they'll see even more playing time now as will rookie Kelvin Sheppard.  I don't know where the pass rushing solution will come from and that's likely to be the ongoing problem for the defense over the final 10 games.
– Say hello to the $59 million man and the face of the Buffalo Bills:  Ryan Fitzpatrick.   Fitzpatrick is probably the best fit and the best leader for the Bills.  The Bills think he's the long-term solution at quarterback.  They passed on taking a quarterback in last April's draft and with the Bills surprising 4-2 start, they felt the time was now to lock him up.  Now, all that's left to do is go out every Sunday and prove he's the man.
* Now, onto today's game.  It's the annual "home" game being played in Toronto.  Do I like it?  Absolutely not.  Do I understand it beyond the obvious short term cash opportunity?  No way.
*Quite honestly, I think it totally sucks having to lose one of their home games a year.  Case in point:  Next week, the Bills truly have a home game against the New York Jets will be their only home game at Ralph Wilson Stadium in seven weeks.  There's something to be said for having the 12th man in your corner.  The Bills won't have that today and considering their injuries on defense, they can't find a pulse on their pass rush and this is virtually a must-win game if they want to keep up in the AFC playoff hunt.
* While  I'm on the subject, I'm done calling Toronto a home game for the Bills.  It's a neutral venue and Bills fans don't exactly outnumber the opposing team's fans.  It's more of an NFL showcase and there's really not a rooting interest.  Fans are cheering for whichever team is making the plays.  And let's not forget the Bills are winless in three tries in the regular season while playing some of their worst football north of the border.  Last year was the first actual competitive game the Bills played in the Rogers Centre since 2008.
Bills Gab Newsletter
Sign up to receive our Bills Gab newsletter, and keep up to date with all the latest Buffalo Bills news.