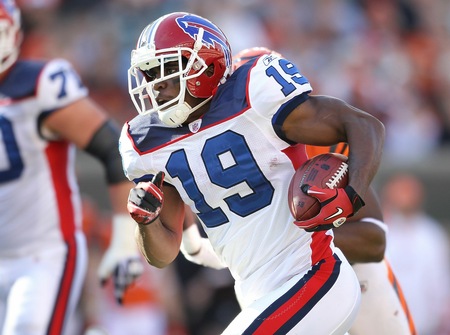 When the Buffalo Bills traded Lee Evans, we knew for sure that meant Stevie Johnson would formally become the team's new No.1 wide out.  Just like a year ago, the No.2 wide receiver carried more questions than answers.  Who would it be?  Is there anyone on the roster who can divert the attention of defenses (preferably double coverages) off Johnson? 
Donald Jones will get the first chance to grap hold of the No.2 receiver slot.   According to the Buffalo News,  Jones confirmed on Monday he'll be lining up opposite Johnson this Sunday when the Bills kick off the 2011 season in Kansas City against the Chiefs. 
As an undrafted free agent in 2010, Jones appeared in 15 games with five starts.  The Youngstown St. product caught 18 passes for 213 yards and one touchdown but didn't register a catch through the Bills' first seven games last year.  His best game in 2010 came in Cincinnati against the Bengals when Jones hauled in five receptions for 70 yards and his only touchdown of the season in the Bills' 49-31 shoot out victory.  The only other game in which Jones caught more than two passes was the season finale against New England.  Jones had five catches for 54 yards.
So replacing Evans has been and will continue to be an ongoing storyline for the Bills offense in 2011, but another question is can lightning strike twice in as many years for a Bills relative unknown wide out?  In 2010 it was Stevie Johnson who went from abscurity to breakout campaign with 82 catches, 1,073 receiving yards and 10 touchdowns. 
Does a similar fate await Jones in 2011?
Bills Gab Newsletter
Sign up to receive our Bills Gab newsletter, and keep up to date with all the latest Buffalo Bills news.