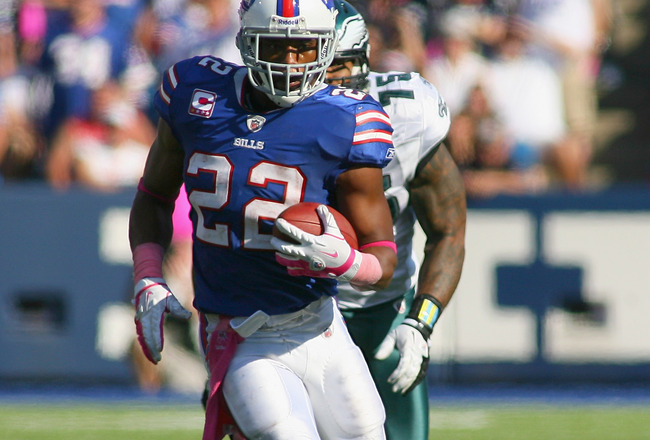 Fresh off their bye week, the Buffalo Bills head back to the gridiron north of the border this Sunday afternoon when they "host" the Washington Redskins at the Rogers Centre in Toronto.
Playing in Toronto has not turned out to benefit the Bills as far having a "home-field advantage" is concerned.  Since agreeing to play one game a year in Toronto back in 2008, Buffalo is 0-3 in the regular season at the Rogers Centre.  They've lost to Miami, the New York Jets and Chicago.  If the Bills can hang their hat on anything, it's that each year they've gotten better in their annual Toronto tilt.  They were simply unwatchable in 2008 against Miami, awful against New York in '09 and rather competitive last year against Chicago.  Maybe the fourth time will do the trick.
If the Bills are to reverse their Toronto curse, they'll have to do so missing several key players and reeling with two losses in their last three games.  In a theme that's become rather familiar for Buffalo, their training room has become similar to a deil counter in the supermarket where you have to take a number and wait to be taken care of.  Wide receiver  Donald Jones remains sidelined with a high ankle sprain.   Starting left tackle Demetrius Bell and reserve rookie left tackle Chris Hairston are both out.  Cornerback Aaron Williams continues to miss time with a chest injury.  The news gets worse, particularly on defense.  Linebacker Shawne Merriman was placed on injured reserve earlier in the week with a problematic Achilles and defensive tackle Kyle Williams continues to battle a foot injury that will not only keep him out of Sunday's game but could possibly threaten to end the rest of his season.
The good news for Buffalo, however, is that they'll welcome back linebacker Chris Kelsay to the defensive side of the ball, and they still have Ryan Fitzpatrick and Fred Jackson to lead the offense and that's not bad.  Fitzpatrick has thrown 12 TD's along with 1,477 passing yards in six games this season and two comeback-led drives in the final seconds of games under his belt.  Jackson has gotten off to an impressive, trail-blazing start rushing for 601 yards and a career-high six rushing touchdowns.  Buffalo's offense is averaging 31.3 points per game while scoring at least 20 points in six consecutive games, the first time that's happened since 2006.
The Bills' fourth-ranked rushing attack (averaging 141.0 yards per game on the ground) goes up against Washington's defense which has allowed 367 yards rushing the past two weeks, both resulting in losses to Philadelphia and Carolina.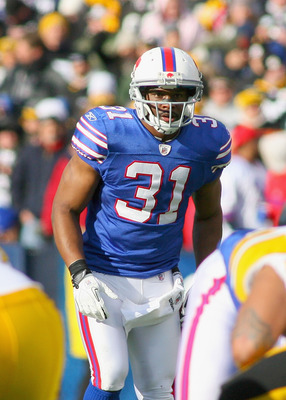 Washington enters the game 3-3 and in need of bye and time to heel their walking wounded like the Bills.  The Redskins lost leading rushing Tim Hightower with a torn ACL in last Sunday's loss in Carolina.  Leading wide out Santana Moss could miss up to seven weeks with a broken bone in left hand suffered last week.  Tight end Chris Cooley landed on IR and is done for the season, while former Bills linebacker London Fletcher is battling a hamstring injury and his status is questionable for Sunday. 
The Redskins' Week 8 offensive trio looks vastly different that that on opening day.  Hightower and Moss are gone.  Quarterback Rex Grossman has gone to the bench and lost the starting job in favor of John Beck.  Now it becomes the Beck-Ryan Torain/Roy Helu-Jabar Gaffney show in DC.
Beck made his first NFL start in four years last Sunday, with a passing and rushing touchdown and interception throwing for a respectable 279 yards.  He'll be facing a Buffalo defense that sports an inept pass rush (four sacks in six games) while allowing at least 414 total yards in five straight games.  Buffalo is surrendering 135.7 yards rushing per contest, so Redskins offensive coordinator Kyle Shanahan could opt for the ground and pound attack with Helu (131 yards rushing) and Torain (152 yards rushing).
Prediction:  Bills 23, Redskins 20.   As the Bills come off their bye week, the expectation is they've recovered from losing to the Giants 27-24 two weeks ago and missing a fantastic chance to be 5-1.  On the flip side, as easy as the Bills could be 5-1 or even 6-0, they could just as conceivably be 2-4 or 1-5 as well.  This one doesn't figure to be easy and it given Buffalo's struggles to carry their offense through customs across the border the past three years, it might not be the prettiest game on the Week 8 slate.  Washington's 3-1 start has quickly turned into 3-3.  They turned the reigns over to John Beck and now they must brave their final 10 games with leading rusher Tim Hightower and it's likely they'll have to play into possibly December without Santana Moss. 
The bigger concern for the Bills is their defense.  When they've forced turnovers they've been very successful.  The Giants took care of the football two Sundays ago and the Bills weren't clutch in a close affair. With Merriman gone and the news getting worse for Kyle Williams, it's up to the kids (Arthur Moats, Danny Batten, Kelvin Sheppard and Marcell Dareus) to mature rapidly and step up.  This is a must-have for Buffalo.  Why?  Because their November slate doesn't appear friendly.  Three of their four games are on the road with all three road games to end the month.  They get the New York Jets twice, Dallas and Miami.  This one's a have-to-have for Buffalo.  I think Fred Jackson runs like he and his team are desperate to get win No. 5.   Jackson was the difference maker in 2007 and I think that scenario plays out again.
Bills Gab Newsletter
Sign up to receive our Bills Gab newsletter, and keep up to date with all the latest Buffalo Bills news.