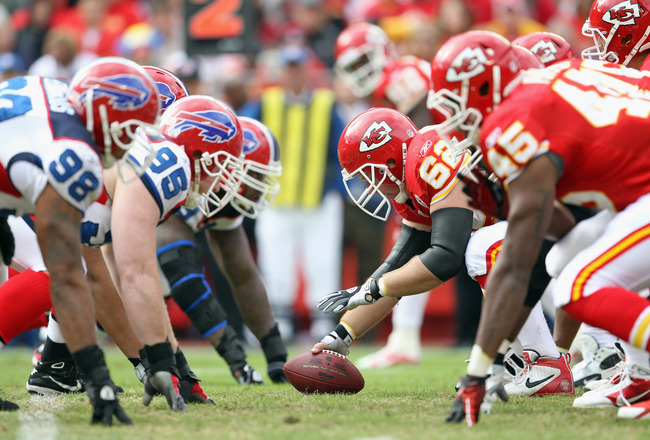 Football is back!
Are you ready? 
The first step on the road to Indianapolis to claim the Lombardi Trophy begins tonight with the past two defending Super Bowl champions going head-to-head when the New Orleans Saints battle the Green Bay Packers.    It makes for a mighty fine appetizer before the feast on Sunday afternoon when Buffalo jump starts their 2011 season against the Kansas City Chiefs.  
Before we get to Sunday's game preview, earlier this week I went behind the enemy lines to get a bird's eye view of what we can expect from the Chiefs.  Oliver VanDervoort covers all things related to the Chiefs over at Chiefs sportsblog and I was fortunate to get his opinions on what to expect from Kansas City in Sunday's Week 1 match up.
Frank Minniti (Billsgab):  There has been a lot of discussion over the past few days about Matt Cassel's ribs.  What's the latest on his situation and do you expect to see out there on the Chiefs' opening series on offense?  In their only game without Cassel in 2010, the Chiefs were trounced 31-0 by San Diego and in 2009 when Cassel missed the opener, they lost at Baltimore 38-24.  If Cassel can't go and the Chiefs are forced to turn to Tyler Palko, how much do you believe Kansas City's chances of winning diminishes?
Oliver VanDervoort (Chiefs sportsblog):   Because the Chiefs had such a terrible pre-season it's hard to tell how much the team will bottom out without Cassel.  The latest is that he feels fine, though I would guess at the very least the Chiefs will be taking a lot of the game plan away from him.  Palko has been pretty jekyl and hyde this pre-season.  At times he looks like a confident QB who can lead the charge. On others he looks completely lost.  If Palko has to play or start, the Chiefs will need their defense to step up big time.
FM:  Losing TE Tony Moeaki for the season with an ACL injury has to be a huge blow.  How does Moeaki's absence alter the Chiefs offense?  Without his security blanket and emerging go-to target, who do you believe will step up or who needs to step up not only in this game but going forward this season on offense?
OV:  Moeaki abolutley kills the Chiefs in the tight end position.  The team goes from having a receiving threat there to it being only a blocking position.  Leonard Pope isn't going to get 5 passes thrown his way.  The fact that the Chiefs decided to go with two tightends shows you just how little they expect the position to play a role offensively.  Steve Breaston is listed as the #2 receiver and if he's healthy (he was nursing his post-op leg all camp) then it will be the first time in YEARS that the Chiefs have actually had two receivers capable of 70-80 catches.  He'll need to step up and get the balls that would have been thrown to Tony.
FM:  Who should the Bills be most concerned with on both sides of the ball on Sunday?
OV:  Here's a guy I think could come out of nowhere. Dexter McCluster.  The Chiefs look like they might basically be going with a three back rotation.  Charles will carry the load until they get inside the 10.  Jones will be the goalline back and McCluster will be the third down back and H-back.  McCluster looks to be someone who can make things happen if they can get him the ball in open space.  He's not going to wrack up 100 total yards, but he could get an impressive 50.  Defensively it's Derrick Johnson.  He started off slowly in camp, but he's been a monster lately.  He's been all over the field.
FM:  Ok, put yourself in Todd Haley's shoes.  You're calling the shots on gameday.  What's your 3-step game plan the Chiefs will need to execute successfully in order to beat Buffalo on Sunday?
 OV:  Run first, run second, run third and then run some more. Even if Cassel starts, he's not going to be able to throw the deep ball.  I would also have quite a few bubble screens to McCluster or Breaston, see if they can make something out of nothing.  Grounding the ball out and running down the clock is going to be key.  I just don't see a quick strike offensive weapon on the Bills, so as long as the Chiefs win the possession time battle, they should be able to scratch out a win, Palko or no Palko.
FM:  Prediction time Oliver!  Who comes out victorious on opening day?
OV:  I'm going to go real conservative given the offensive problems the Chiefs had in the pre-season and say 17-7 Chiefs will be the final score.
So there you have it, folks.  I hope you enjoyed Oliver VanDervoort's front row seat opinions on what we might expect from Kansas City on Sunday afternoon.  I want to send a special thanks to Oliver for taking the time and the effort this week to engage in a this question and answer session.  Hopefully in the near future we'll do something like this again.