For the first time during his seven-year NFL career, Ryan Fitzpatrick enters a season as the starting quarterback for an NFL team. 
The reality is, however, it probably should've happened a year ago.  Not because Fitzpatrick was a prodigy or a star in waiting, but because for reasons that will likely remain unknown from not until kingdom come, Trent Edwards "won" the starting quarterbacking job in 2010.  My guess is head coach Chan Gailey would like to hit the re-do button on that decision. 
But that was then and this is now.  This is Fitzpatrick's team from the get-go.  
He was reduced to cheerleader the first two games of last season.  The Bills put their fans to sleep with an opening day 15-10 loss against Miami, then went to Green Bay and got trounced 34-7 by the eventual Super Bowl champion Packers.  Soon after, the Bills benched Edwards and released him not longer after that signaling they'd given up on him and turned the reigns over to Fitzpatrick.
The numbers don't suggets Fitzpatrick cured the Bills' ills.  Buffalo finished 4-12, losing their first eight games of the season.  With Fitzpatrick as the starter, the Bills were 4-10.  Of their four victories, none was against a team with a winning record.   Their offensive numbers resembled their record:  not pretty.  They were 28th in the league in points, 25th in total yards and 24th in passing yards.  In his 13 starts, the Bills ranked in the low teens in all three categories.  Not considered a drastic improvement, but with Fitzpatrick at the helm the Bills weren't pushovers.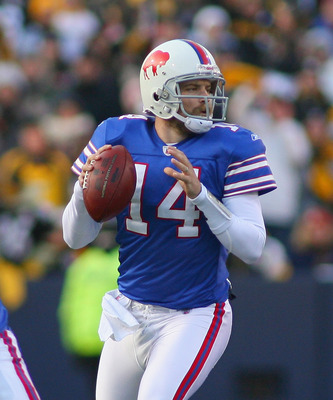 Buffalo lost four games by a combined 19 points.  They lost three straight games by three points each and came up short in overtime all three times by three points. 
Aside from all the losing, Fitzpatrick was able to produce in shall we say, less than perfect circumstances.  He threw 23 touchdowns and passed for exactly 3, 000 yards, including throwing a touchdown pass in 14 consecutive games a feat that hasn't been accomplished by a Bills quarterback since…you guessed it, Jim Kelly.
For the first time in a long time, Fitzpatrick gave the Bills a serviceable option at quarterback and not since Drew Bledsoe or Doug Flutie has there been a player at quarterback that was able to generate any level of excitment from a disgruntled and ticked off fan base.  His biggest assest are his intelligence and gutsy play with the football.  He's not in that upper echelon category of 'gun slinger' like Brett Favre, but Fitzpatrick has no reservations about taking chances and attacking vertically down the field.
What Fitzpatrick must do to improve this season from last is become more consistent and more accurate with the football.  Another year in Chan Gailey's system, along with the further development of his surrounding cast,  will help Fitzpatrick become a better quarterback.  What he doesn't need to improve is his standing in the locker room and with his teammates.  Both coaches and players love Fitzpatrick's toughness.  He's spent the majority of his career trying to prove his worth and convince teams (St. Louis, Cincinnati and Buffalo) he has what it takes to lead a team.  He no longer has to worry about that anymore.
Is he the long term solution at quarterback?  It seems that  he's more of a stop-gap quarterback and he's probably not the longer term 10-to-15 year answer for the Bills at quarterback.  He doesn't have that ideal "big arm, can make all the throws" label for a quarterback.  But what he does have is toughness and nothing to lose.  Fitzpatrick is in a contract year and no question he'll be looking to show the Bills why he's the right man for the job and the Bills will be looking for reasons to believe and think he can be the right man for the job.   You have to like the chances of a guy playing with nothing to lose and pretty big chip on his shoulder.
Fitzpatrick played well enough in 2010 for the Bills to bypass selecting a quarterback in the draft.  After the season and leading up to the draft, head coach Chan Gailey expressed his support for Fitzpatrick and felt very comfortable if the Bills went into the 2011 season with Fitpatrick as the starter.   Buffalo passed on taking a quarterback (most notably Blaine Gabbert and Ryan Mallet) and went with a defense-heavy draft plan.  The defense, particularly defending the run, couldn't get off the field a year ago and has been woeful going on two years now.  The defensive unit was an albatross to the offense.  As a result the Bills ran fewer plays which directly led to one of the league's worst time of possessions.  
If the Bills and Fitzpatrick are going to take that next step, they'll have to carry their 4-4 record from the second half of 2010 into the start of 2011.  Fitzpatrick made the most of a bad situation last year.  He threw for the most touchdown passes (23) since Drew Bledsoe threw for 24 in 2002.    He's been underrated, overlooked and a cast off for much of his career.  The Bills weren't as bad as their record 4-12 indicated last season.  Led by Fitzpatrick, they were able to regroup from an awful 0-8 start to finish the season playing .500 football (4-4). 
Can Fitzpatrick help Buffalo take another positive step in the right direction and become a factor in the AFC East?
Bills Gab Newsletter
Sign up to receive our Bills Gab newsletter, and keep up to date with all the latest Buffalo Bills news.