Is it getting hot in here or is it just me?
As we're inching closer to the 2011 NFL season, we'll start the season with 32 NFL head coaches.  Some are new.  Some are old.  Some are running on borrowed time.  But when the season comes to a close, not all 32 head coaches will be on the sidelines next season.  Especially when you consider the three-headed free agent coaching monster (Jeff Fisher, Jon Gruden and Bill Cowher) looking to possibly get back into coaching.  Let's take a look at which coaches around the league will be under the microscope and under fire if their respective teams don't produce.
Tony Sparano, Miami Dolphins.  Not that I'd ever feel sorry for anything related to the Miami Dolphins, but my how the mighty have fallen.  He turned water into wine in 2008.  Coming off a one-win season, Sparano took over and lead the Dolphins to an 11-win season (most since 2003), the AFC East Division champs and a playoff berth.  Since then, Miami has posted two straight 7-9 seasons and the team has sputtered with Chad Henne at quarterback.  In the offseason, owner Stephen Ross hopped a flight to California to make his best sales pitch to Jim Harbaugh in an attempt to replace Sparano.  That can't be a good sign for his job security.  Ross failed to land Harbaugh, then tried to clean up a PR mess by giving Sparano an extension.  It's clear that ownership and the fan base doesn't believe in Sparano or Henne.  They brought in Matt Moore instead of trying to acquire Kyle Orton.  All their eggs are in Henne's basket, which is an inaccurate, sketchy and inconsistent basket.  The schedule doesn't help, either.  Three of their first four games are against New England, Houston and San Diego and their first game off their bye week is at the New York Jets.  It won't be a surprise if the team quits on Sparano early in the season, and he might not last until Thanksgiving.  Sparano is about as sure a lame-duck head coach you can find in 2011.
Gary Kubiak, Houston Texans.  Deep in the heart of Texas, the temperatures are always hot.  Texans GM Bob McNair has been more than patient and willing to let Kubiak continue to drive the bus.  But five years under Kubiak, the Texans have no playoff appearances and finished above .500 only once (2009, 9-7).  Houston has the firepower.  They've been strong on offense (Matt Schaub, Andre Johnson, Arian Foster) but they've been a train wreck on defense, most notably in the secondary.  They spent big bucks in free agency on CB Jonathan Joseph ( 5 years, $48 million) and SS Daniel Manning (4 years, $20 million) and all five of their picks in the 2011 NFL Draft were used on defense.  Former Cowboys coach Wade Phillips brings his defensive smarts and will install the 3-4 defense, but can he clean up the defensive mess in time to help Kubiak keep his job?  The talent is there, but crunch time victories have eluded Houston.  In the past two seasons, the Texans are just 7-12 after Halloween.  They'll compete for a playoff berth again, but that likely won't cut it.  Factor in the uncertainty surrounding the health of Peyton Manning's neck and the division seems there for the taking.  If Houston comes up short again, Kubiak will be singled out as the fall guy.
Andy Reid, Philadelphia Eagles.  8 seasons in which the Eagles won at least 10 games.  6 division titles.  1 Super Bowl appearance.  It's hard to fathom with that type of resume that Eagles head coach Andy Reid might be feeling some heat under his seat.  But, in the offseason the Eagles snatched away the "Free Agency Winner' banner from divison rival Washington and went on a shopping spree of riches.  They reeled in prize free agent CB Nnamdi Asomugha, DT Cullen Jenkins, QB Vince Young, RB Ronnie Brown, DE Jason Babin and WR Steve Smith.  Philly jettisoned QB Kevin Kolb to Arizona but got back CB Dominique Rodgers-Cromartie in return.  They added five new position coaches, most notably offensive line specialist Howard Mudd and defensive line coach Jim Wasburn.  The Eagles have one of the best offensive trios in QB Michael Vick, RB LeSean McCoy and WR DeSean Jackson.  They focused on upgrading a mediocre pass rush and upgrading the secondary following a season in which they allowed a franchise record for passing TDs and ranked last in the NFL in red zone defense. With all the head turning moves made, the Eagles have pushed all their chips to the middle of the table.  They're all in and nothing short of hoisting the Lombardi Trophy will be tolerated.  The problem with going all in is that there's officially no more rope.  Reid has no more excuses and should the Eagles come up short fingers will point in Reid's direction.  He'll be viewed as the one constant figure that's remained through all the change.  Reid may be the safest bet of any coaches on this list to return should the Eagles fall flat, but without a doubt his seat will be white hot in 2012.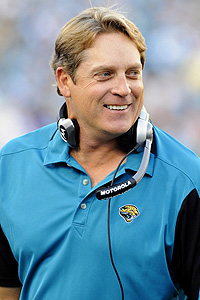 Jack Del Rio, Jacksonville Jaguars.  Throughout his eight-year stint on the sidelines in Jacksonville, Del Rio has had the Jaguars in the playoffs twice but the team hasn't joined the postseason party since 2007.  Ironically, 2007 is also the last time the Jaguars had a winning season.  Jacksonville's ups-and-downs can be tied directly to that of the erractic play of QB David Garrard, which has offseat the play Maurice Jones-Drew and a solid defense.   There seems to be mixed signals coming from Jacksonville especially from owner Wayne Weaver.  Looking towards the future the Jaguars spent a top 10 draft selection on Garrad's replacement under center, Missouri QB Blaine Gabbert.  On the other hand, the Jaguars shelled out top dollars during free agency spending nearly $100 million on three defensive veterans:  LBs Paul Posluszny and Clint Session and SS Dawan Landry.  So, with that mind are the Jaguars trying to win now and compete for the playoffs?  This has the potential to backfire.  Teams usually don't enjoy a lot of success when they try to combine winning now and planning for later.  Del Rio might need a winning season and/or a playoff berth to keep his job, but relying on Garrard and Gabbert (rookie) could prove to be too costly.  If that doesn't do in Del Rio, the schedule might.  They have a daunting October slate in which they start with New Orleans and end the month with three straight brutal contests: at Pittsburgh, vs. Baltimore and at Houston.  After Thanksgiving, things get worse.  From Nov.27 to Dec.15, the Jaguars play Houston, San Diego, Tampa Bay and Atlanta.
 Tom Coughlin, New York Giants.  Like his NFC East foe Andy Reid, Coughlin sports a fine resume:  four seasons with at least 10 wins, two division titles and one Super Bowl.  But since that magical 2008 season the Giants have missed the playoffs.  Last year's 10-win total wasn't enough and late game devastations against Philadelphia and Green Bay were contributing factors.  It hasn't exactly been chocolate clouds and vanilla raindrops for New York this offseason.  Eli Manning lost two of his favorite targets (TE Kevin Boss, Oakland and WR Steve Smith, Philadelphia) in free agency.  Injuries have killed the Giants already.  CBs Terrell Thomas and Brian Witherspoon have placed on IR and lost for the season.  Both have torn ACLs.  Another cornerback, Bruce Johnson, was lost for the season with a torn achilles tendon.  Their top draft selections, CB Prince Amukamara and Marvin Austin, have suffered injuries.  Austin was lost for the year with a torn pectoral muscle.  Amukamara suffered a broken foot early in training camp and likely won't be back until after the first month of the season.  DE Osi Umenyiora's troublesome knee needed surgery and he's likley out until October.  That's a lot to try and make up for on defense.  Eli Manning will need to cut down on his interceptions and the offensive line has new pieces in place and must re-establish themselves as one of best in the NFL.  The Giants' early portion of the schedule helps.  Five of their first seven games are against teams that didn't make the playoffs in 2010:  Washington, St. Louis, Arizona, Buffalo and Miami.  They're also set up for epic fail in the second half.  They face New England in Week 9.  They'll endure a brutal three-game stretch against Philadelphia (Week 11), New Orleans (Monday night Week 12) and Green Bay (on a short week, Week 13).  They end the season against the Cowboys (Week 14 and 17) and the New York Jets.  If the Giants miss the playoffs for the third straight year (last time that happened was 1994-96),  New York may decide to part ways with Coughlin.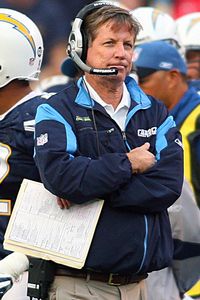 Norv Turner, San Diego Chargers.   Is this the year that San Diego finally gets off to a quick start?  As Turner embarks on his fifth season at the helm, the Chargers have cornered the market on slow starts.  In 2007, the Chargers started 1-3, got to .500 during their bye week in mid October and went 8-2 the rest of the way en route to the AFC Championship game.  In '08, San Diego started 3-5 only to rebound to finish the year 5-3 and make the playoffs.  In '09, it was the same song.  The Chargers started 2-3 but reeled off 11 straight wins claiming their third consecutive AFC West division title.  But last year, the slow starts finally caught up to them.  San Diego began 2010 4-5, finished the year 5-2 but it wasn't enough.  Kansas City went on to win the AFC West and the Chargers missed the playoffs for the first time since 2005, despite having both the NFL's top ranked offense and defense.   San Diego has one of the premier QBs in football in Phillip Rivers, a dynamic receiver in Vincent Jackson, a top flight tight end in Antonio Gates.  The Chargers also keep in tact a very good offensive line, protecting Rivers and opening holes in the running game for Ryan Matthews and Mike Tolbert.  They added Bob Sanders and Takeo Spikes (who helps offset the loss of LB Kevin Burnett who signed with Miami), and if they can improve their woeful special teams units they'll return to the top of the AFC West.   It's easy to see why they have high expectations once more in San Diego.  After their bye week (Week 6), they hit the road to face the New York Jets (Week 7) and Kansas City (Week 8), host Green Bay and Oakland in Weeks 9 and 10, and travel to Chicago to square off with the Bears in Week 11.  That's four playoffs teams from a year ago in a five-week span.  Not an easy task.   If San Diego starts slow again and either doesn't recover or fails to go deep in the playoffs, the Chargers might spend the early portion of the 2012 offseason looking for Turner's replacement.
Bills Gab Newsletter
Sign up to receive our Bills Gab newsletter, and keep up to date with all the latest Buffalo Bills news.