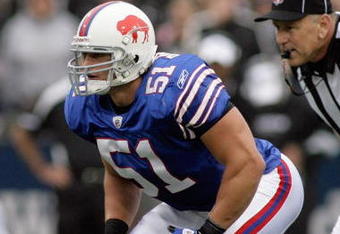 What started out as a quiet day for the Buffalo Bills on the free agency front ended with a flurry of activity.
Earlier NFL.com's Jason La Canfora reported that the Jacksonville Jaguars were among the teams (New York Giants, Philadelphia) interested in signing Posluszny. As it turns out, Jacksonville has won the Posluszny sweepstakes.
The Jaguars and Posluszny have agreed on a six-year deal. Posluszny heads south to a warmer climate and ultimately it was the opportunity to return to the 4-3 defense that was the tipping point for the former Penn State middle linebacker to join the Jaguars
With Posluszny's defection, the Bills now have a greater urgency at inside linebacker. Buffalo has veterans Andra Davis and Reggie Torbor along with rookies Kelvin Sheppard and Chris White filling out the depth chart.
Fresh off losing Posluszny, the Bills may be bracing themselves to lose another valuable piece on defense. La Canfora is also reporting that the Jets, preparing for the departure of free agent cornerback Antonio Cromartie, are in hot pursuit of cornerback Drayton Florence. Buffalo has five cornerbacks currently under contract (3 veterans, 2 rookies), but Florence was clearly the Bills' best corner in 2010 and to lose out in a bidding war to their AFC East rivals would be a devasting blow.