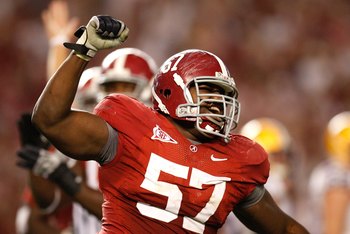 We are exactly one month and a couple hours away from the 2011 NFL Draft, so with that in mind from now until April 28th there will be news, rumors, speculations and mock draft selections galore here at Billsgab.  As the Bills continue their ongoing player evaluations, the Bills have schedule pre-draft interiews with some high profile draft prospects:  Auburn QB Cam Newton and DT Nick Fairley;  Purdue DE Ryan Kerrigan, Clemson DE Da'Quan Bowers and Cal DE Cameron Jordan.
With it's also expected that other prominent names ( Texas A & M LB Von Miller, Patrick Peterson of LSU and Georgia WR A.J. Green) will also meet with the Bills, we can now add another hot commodity to the list:  Alabama DT Marcell Dareus.
NFL.com's Jason La Canfora has reported that Dareus and the Bills are expected to meet sometime this week.  With Dareus in high demand, there are as many as seven other teams picking in the first 10 selections of the draft that in hot pursuit to meet with the standout defensive tackle.  Carolina, which holds the first overall selection, is schedule to meet with Dareus, as well as the Denver Broncos, the team picking directly ahead of Buffalo.  Dareus is also scheduled to meet with Cleveland, San Francisco, Tennessee and Washington.
Dareus would be a great fit for any team in desperate need of a defensive tackle, and considering the Bills' two-year continuing problem of stopping the run, it should come as a shock to no one that the Bills are interested in Dareus, and also Fairley.  Dareus is smart, instinctive and can be a difference maker in both the run and the pass.  His versatility will make a big time target on draft day, as he can play in either the 4-3 or the 3-4 scheme.  It's likely Dareus won't have to wait around very long on April 28th, but the intrigue remains as to whether or not Dareus will make it to the Bills at No.3 or if he's taken by either Carolina or Denver, both teams that will pick ahead of the Bills.