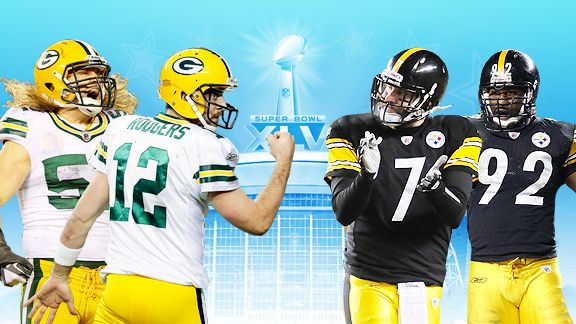 1.  With Maurkice Pouncey ruled out of the Super Bowl, how effective will the Steelers' interior running game be, along with protecting Ben Roethlisberger in the passing game with second-year reserve Doug Legursky?
2.  Who wins the battle:  Steelers C Doug Legursky or Packers DT BJ Raji?
3.  Which pair of rookies thrives in the biggest game of their careers:  Pittsburgh WRs Emmanuel Sanders & Antonio Brown, or Green Bay RB James Starks & CB Sam Shields?
4.  Can Starks, the NFL's postseason rushing leader, run effectively enough against the Steelers' top ranked rushing defense and bring balance to Green Bay's high potent offense ?
5.  With two weeks to prepare, can Steelers defensive coordinator Dick LeBeau pressure and confuse Aaron Rodgers and force the game's up-and-coming quarterback darling into making mistakes with the football?
6.  Can Rodgers take advantage of Pittsburgh's 12th ranked passing defense?
7.  How healthy is Steelers S Troy Polamalu?
8.  And will he play at a breakneck level that makes the Steelers' defense so scary?
9.  Who makes more plays with their legs outside of the pocket, Rodgers or Roethlisberger?
10.  Has too much been made about the indoor, speedy conditions of Cowboys Stadium and how much of an advantage it'll be for the Packers?
11.   Will playoff sack master LaMarr Woodley (10 sacks in six career playoff games) be too much for Packers rookie RT Bryan Bulaga to handle?
12.  Without both starting tackles and their starting center, can Pittsburgh's offensive line hold up against Green Bay's beefy, athletic front seven?
13.  Which chess match is more intriguing:  Aaron Rodgers vs. Troy Polamalu or Ben Roethlisberger vs. Charles Woodson?
14.  Can Clay Matthews and AJ Hawk cut off Rashard Mendenhall and the Pittsburgh running game?
15.  Will Mendenhall be able to duplicate his AFC Championship performance when he rushed for a career-high 121 yards against the New York Jets?
16.  If the Steelers win, will 35-year old WR Hines Ward retire and go out on top like his former teammate, RB Jerome Bettis?
17.  Can James Harrison turn in another big game performance the way he did in Super Bowl XLIII with his 100-yard interception for a touchdown?
18.  Will this be the first game all season Green Bay trails by more than seven points?
19.  If Packers WR Greg Jennings turns in an MVP-type performance, is it time to elevate him into the upper echelon of receivers like Andre Johnson, Larry Fitzgerald and Reggie Wayne?
20.  Will Ben Roethlisberger join the likes of Joe Montana, Terry Bradshaw, Tom Brady and Troy Aikman as the only quarterbacks in NFL history to win at least three Super Bowls?
21.  Can Green Bay end Pittsburgh's seven-game playoff winning streak?
22.  Will Steelers head coach Mike Tomlin become the youngest head coach in NFL history (38 years old) to win multiple Super Bowl championships?
23.  Will Pittsburgh's experience (3rd Super Bowl in 6 years, along with 25 players who have played in a Super Bowl) trump Green Bay's youth and inexperience (Packers have just two players with Super Bowl experience, while playing in their first Super Bowl since 1997)?
24.  Can the coach with Pittsburgh roots (Green Bay head coach Mike McCarthy was raised in Pittsburgh and was a Steelers fan) defeat his favorite childhood team in the big game?
25.  With 36 years of NFL experience between them, is this finally the time for Green Bay's trio of LT Chad Clifton, WR Donald Driver and CB Charles Woodson to get their coveted Super Bowl title?
26.  Will the league's top two defensive units make it a defensive, low-scoring battle?
27.  Or, will it resemble the 37-36 shootout in the regular season meeting won by Pittsburgh at Heinz Field on Dec. 20, 2009?
28.  Will Green Bay become the first sixth-seed in the NFC playoffs and just the second sixth-seeded team in NFL history (Pittsburgh was only other No.6 seed to win Super Bowl in 2006) to win the Super Bowl?
29.  If it comes down to a game-winning field goal attempt, which kicker do you trust more: Green Bay's Mason Crosby or Pittsburgh's Shaun Suisham?
30.  With labor issues and the potential threat of a lockout, will Super Bowl XLV be the last football played in 2011?