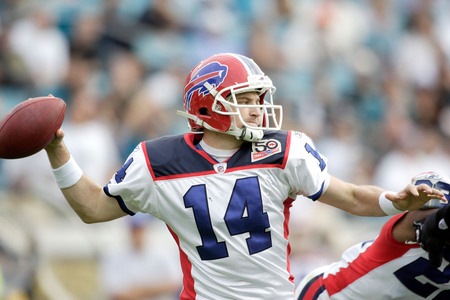 The Buffalo Bills are still aiming to get their first win of the season.   Jacksonville Jaguars slayed their divisional giant with a last second field goal to beat the Indianapolis Colts.  Could the Bills capitalize on a potential Jaguars letdown?
Bills/Jaguars – What to Look For in Week 5
1.  Un-Crowded House.  Well it was a nice idea, but the Bills' three-headed rushing attack failed to materialize and provided more problems than solutions.  Now with the recent trade of Marshawn Lynch to Seattle, Buffalo has created some wiggle room at running back.   Presumably, that means last year's 1,000 yard rusher Fred Jackson takes over as the starter again, with C.J. Spiller working in as the change of pace and third down back.  Jacksonville hasn't given up more than 82 yards to a running back this season.  In last week's victory over the Colts, the Jaguars limited Indianapolis to just 58 total yards rushing.
2.  Running on Empty.  New year, same old problem for the Buffalo defense.  The Bills rank dead last in the NFL in rushing defense, allowing 174 yards per game on the ground.  In four games this season, the Bills have been gashed for nearly 700 yards.  In the last two weeks, Buffalo has been shredded by opposing running games to the tune of 473 yards in two games.  Jaguars running back Maurice Jones-Drew has to be salivating like a rat in a Dorito factory.  Jones-Drew is tied for eighth in the NFL with 322 yards rushing, while remaining the Jaguars' offensive linchpin.  Jacksonville's game plan won't be very complicated, rather it'll be pretty predictable:  hand the football off to MJD and get out of the way.  The Jags love to run it.  The Bills can't seem to stop it. 
3.  Which David Garrard Shows Up?   The best way to describe David Garrard is to picture a thermostat:  it runs hot and cold.  As much as the offense is centered around Maurice Jones-Drew, there's a direct correlation between the Jaguars' record and Garrard's play in 2010.  In two wins, Garrard boasts a passer rating of 133.3 while completing over 76 percent of his passes with five touchdowns and zero interceptions.  But in their two losses, Garrard should have been working the snack stand:  53 percent completion rating, 34.9 QB rating, one touchdown, and five interceptions. 
4.  Welcome Back, Trent!  Just a few weeks removed from being released by the Bills, quarterback Trent Edwards returns as a visitor in a Jaguars uniform.  How much insight he'll give into the offensive interworkings in Buffalo remains to be seen, but one thing to watch for is the irony card here.  Suppose David Garrard gets off to a rough start and struggles.  Does head coach Jack Del Rio yank Garrard and go with Edwards?  Worse yet, imagine if Edwards were to actually lead Jacksonville on a game-winning drive.
5.   Message Not Being Received.   Needless to say 2010 has been very unkind to Lee Evans.  The Bills' top receiver has just 94 yards on 10 catches and no touchdowns.  Last week against the Jets, Evans had two key drops and didn't record his first catch until the final seconds of the game.  Against the Jets and the Packers, Evans had only one catch in both games.  His lousy numbers can be tied to the Bills' quarterback play, the lack of a quality receivers on the roster and the double coverages he draws from opposing defenses.  Good news for Evans is that he'll face the Jags' 30th ranked pass defense that's giving up over 300 yards passing per game while opposing quarterbacks are completing 67 percent of their passes.  On he flip side, the Jaguars' Mike Sims-Walker is experiencing similar early season struggles.  Ironically in Jacksonville's two victories, Garrard was very good and Sims-Walker didn't have a catch in either win.  Garrard targeted Sims-Walker only a couple times in last week's win against the Colts.  
Prediction:  Bills 21, Jaguars 20.  At 0-4 and one of the league's worst franchises, the 2010 season appears all but lost for Buffalo.  We knew the schedule was ugly coming into the season, but now that we've seen the Bills through the first quarter of the season, it doesn't appear there are many winnable games left on the schedule.  Jacksonville could be vulnerable coming off an emotional last second victory against a division rival.  If the Bills don't win here, there next chance at a win might not come until November and the 0-16 whispers will turn to screams.