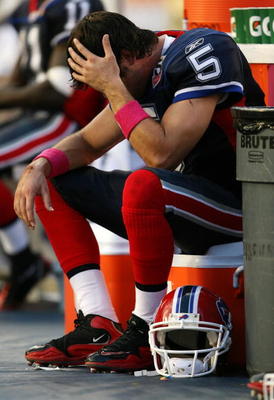 I'd like to call this movie, Benching: The Sequel.
Last season, Trent Edwards was benched after Week 10 when the Tennessee Titans took the Bills to the woodshed.  This time around, however, it only took two weeks for Edwards to lose his grip on the starting job.
Head coach Chan Gailey wasted no time in attempting to change his abominable offense, announcing Monday that Ryan Fitzpatrick is taking over under center and will start on Sunday against the New England Patriots.
Gailey stated:  "We're going to make a change at quarterback.  We're looking for a spark.  We're looking for something that gives us a new look, some new play on the field.  We're looking for the right combination.  We haven't found that yet".
Gailey also cautioned that the move wasn't made based entirely on Edwards' play thus far through two weeks.
"The implication might be that it's all Trent's fault and that's not the case.  We've got a lot of things we've got to work on", Gailey said.
I wrote last night that we'd most likely see Fitzpatrick and possibly Brian Brohm sooner rather than later, and mere hours later Gailey doesn't make me look like a liar.  The timing, albeit a little surprising, certainly seems necessary.  The Bills have turned in two dreadful performances on offense, ranking last in the NFL with 176 yards per game.  Buffalo has produced just two touchdowns in two games while failing to achieve more than 190 yards of total offense in either game this season.
Coming off  his best preseason in his tenure with the Bills, Edwards was poised to put his past trials and tribulations behind him.  But zebras don't lose their stripes and it didn't take long for Edwards to revert back to his old self, looking shaky, hesitant and uncertain.  Edwards has been unable to translate preseason success into real game success.  In two rotten outings, Edwards has completed 29-of-55 passes (55.1 percent) for 241 yards, one touchdown and two interceptions.  His quarterback rating is 58.3 and his 89 yards per game average ranks dead last in the NFL. 
While no one is absolving Edwards for the deplorable offensive efforts, the offensive line is exactly setting the world on fire either.  The protection surrounding Edwards has been extremely poor.  They've surrendered seven sacks in two games, good for the third-most given up in the league so far this sesaon.  But I'm not sure what the Bills expect from a line devoid to NFL calibur tackles.  In this case you get what you pay for.  They've got their hopes on a seventh round pick and a guy who needs help blocking a wet paper bag.
In Fitzpatrick's case, this situation won't be his first rodeo.  He dealt with similar circumstances last season, though he wasn't tabbed the starting quarterback quite this early in the season.
Following a loss to Tennessee in Week 10 in 2009, the Bills fired then head coach Dick Jauron and named Perry Fewell the interim head coach.  Fewell's first act was replacing Edwards with Fitpatrick. 
In 10 appearances with Buffalo last season, Fitzpatrick threw for 1,422 yards, nine touchdowns and ten interceptions.  Last season, he led the Bills to a 5-4 record in the nine games in which Fitzpatrick either started or saw the majority of playing time at quarterback.  In contrast, Buffalo was just 1-5 under the direction of Edwards.
He's not going to wow you nor will he overwhelm defenses, but there's no denying the Bills were a different group with Fitzpatrick and without Edwards last year.  He was backed by both Terrell Owens and Lee Evans.  Fitzpatrick also seems to have a willingness to take shots down the field.  Owens was on the receiving end of a 98-yard beauty of a pass in Jacksonville from Fitzpatrick.  Evans has been frustrated badly so far this season.  He had no catches in Sunday's loss at Green Bay and was only targeted a couple of times by Edwards in the game.
Though it's uncertain we've seen the last of him this season, Edwards' 34-game duration in a Bills uniform has gone from hopeful to horrible.  Edwards has never eclipsed the 300-yard mark in passing in a game.  It's been a full calendar year since Edwards threw for more than 200 yards.  Edwards' career high for touchdown passes in a season is 11.
After last season's benching, most of us believed (including yours truly) that when the Bills began another rebuilding project in the offseason Edwards wouldn't be around in 2010.  That wasn't case.  Chan Gailey gave Edwards a reprieve and another chance to nail down the starting job.  Now, in the final year of his contract and another benching in consecutive seasons, Edwards' tenure in Buffalo is soon to be over.
The curse of Jim Kelly is alive and well.  We can now safely add Trent Edwards' name to that woeful list, if you haven't added his name already.  Edwards joins the ranks of Todd Collins, Rob Johnson, Drew Bledsoe, Alex Van Pelt, and J.P. Losman as failed successors to Kelly.
So off of the bench and directly into the pit of the fire goes Fitzpatrick.  His first start of the season will be no cupcake, as he inherits the task of facing the New England Patriots, who have beated the Bills 13 straight times.  The last Bills' victory over the Patriots came in 2003, a 31-0 rout in season opener at Buffalo.  The Bills are 1-18 in their last 19 meetings with the Patriots and have not won in Foxborough since November 5, 2000.
Bills Gab Newsletter
Sign up to receive our Bills Gab newsletter, and keep up to date with all the latest Buffalo Bills news.