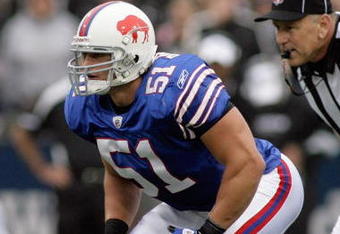 The Buffalo Bills started out the new season with a good litmus test in the form of division rival Miami.  But in Week 1 under new head coach Chan Gailey, the script remained eerily similar to 2009.  Buffalo's defense battled all afternoon to keep the Bills in position to win the game.  The offense, however, never got into any sort of rhythm and the Bills dropped their season opener to Miami, 15-10.
So with Week 1 in the books, it's time to break down what I liked and what I loathed from the Bills. 
What I Liked
Drayton Florence, CB.  The Bills' most physical corner Sunday, Florence led the defense with 10 tackles.  He did very well in the Bills' cornerback rotation.
Leodis McKelvin, CB.  Buffalo's third-year man drew prime time action, mainly in the second half when McKelvin lined up across from Dolphins wide receiver Brandon Marshall.  McKelvin rose to the challenge and locked up Marshall in the second half;  Marshall was held to just two catches for nine yards. 
Paul Posluszny, ILB.  If the Bills' rushing defense is to improve upon last season's dismal showing, it all has to start in the middle with Posluszny and on Sunday he was on his way to being a menace.  Despite leaving the game with a knee injury and not playing in the second half, Posluszny recorded eight tackles and a sack, and was a steadying force in the middle of the defense in the first half.
Chris Ellis, OLB.  Ellis was making his first ever NFL start at a new position he's never played before, but he sure looked right at home playing outside linebacker.  Ellis recorded five tackles and his first career NFL sack, and though it's just one game, the Bills and Ellis hope this is a sign of good things to come this season.
Rian Lindell, K & Brian Moorman, P.  Despite routine debacles, whether they be games or seasons, these two continue to spearhead one of the top sepcial teams units in the NFL.   Despite the Bills' pitiful performance in the first half, Lindell's 51-yard got the Bills on the board and made it a reasonable, one-score game at halftime.
Bills Defense. We got our first look at the Bills in the 3-4 defense and all things considered, I'd call it a good day for the unit.  Miami did have 132 rushing as a team but the unit held Ronnie Brown and Ricky Williams to under 70 yards rushing apiece( Brown – 65, Williams – 62).  The pass defense showed why it's the backbone of the team.  They held Marshall to just 53 yards receiving and kept quarterback Chad Henne to 182 yards passing.  The defense, again, while not spectacular, played well enough to get a victory.
What I Loathed.
The Offense.  It was as bad as bad could get, even for opening day.  The passing game was abysmal.  The running game was a nonfactor.  The Bills managed only nine first downs and just 166 yards of total offense.  Before a late completion near the end of the first half, the Bills had 2 net yards passing.  How can this team be taken seriously with pathetic stats like that?
Trent Edwards.  Supposedly, this was going to be a different Trent Edwards running a better, more confident offense.  But on Sunday, the fish stunk from the head.  Edwards was terrible, throwing for only 132 yards while reverting right back to his 2009 form.  He averaged only 4.1 yards per play and his only pass play of more than 20 yards was the 31-yard touchdown to Roscoe Parrish.  It's just one game, sure, but aside from the too little too late drive late in the game, Edwards continues to look out of place as this team's starting quarterback.  If you listen closely, you can start to hear faint whispers calling for Ryan Fitzpatrick and Brian Brohm.
Third Downs.   The Bills were dreadful on third down last year and through one game in 2010, this was no different.  Buffalo converted just 3-of-14 third down attempts.  The inability to sustain drives has carried over from a year ago.
Cornell Green and Demetrius Bell.  Green has been nothing more than a marginal player in his career, but on Sunday I would have killed for marginal.  Green makes Langston Walker like a perennial All-Pro. I know Bell isn't at 100 percent yet following his knee injury from a year ago, but when you're getting abused by Cameron Wake and worse yet, rookies like Koa Misi and Jared Odrick  start to hand you your afternoon lunch, that's just flat out unacceptable.  The Bills shouldn't expect to win as long as Green and Bell are this team's starting tackles.  To say protection is a problematic issue would be the understatement of the year.
The Running Game.  A supposed strenght coming into the season, it was virtually nonexistent on Sunday.  The Bills had just 50 yards rushing as a team.  Fred Jackson and Marshawn Lynch combined for 32 yards on seven carries.  It was a rough debut for rookie C.J. Spiller, who finished with six yards on seven carries. 
Lack of Points.  For the 13th time in the past 17 games, Buffalo has failed to score more than 20 points in a game.  Yuck.
Overall Grade:  D –    The solid effort by the defense went by the wayside thanks to another, yet too familiar crummy showing by the offense.  Buffalo needed this opening win in a bad way, but didn't get it.  Now trips to Green Bay and New England in consecutive weeks followed up with a home contest against the New York Jets have the Bills staring down a possible 0-4 start.
Bills Gab Newsletter
Sign up to receive our Bills Gab newsletter, and keep up to date with all the latest Buffalo Bills news.