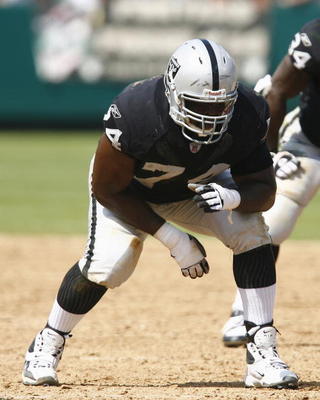 Last year, the Buffalo Bills made a huge, out-of-the-box splash signing free agent Terrell Owens.  This free agent year however, the Bills been, well…patient.  Or prudent.  While other teams made a mad dash into the free agent pool, the Bills have barely gotten their toes wet. 
The Bills entered the offseason with a heightened sense of urgency to address their problems on the offensive line.  On Monday, the Bills added free agent tackle Cornell Green from the Oakland Raiders signing him to a three-year deal worth $9 million.
Granted, this signing probably generated as much excitement as the hiring of Chan Gailey.   As for the price tag, well I'd consider the deal awfully, awfully generous for a journeyman tackle.  And then there's the thought of the Bills bringing in another former Raider offensive lineman.  I don't think anyone needs a refresher on how the Langston Walker experiment turned out.
Nonetheless, the Bills needed to add whatever pieces they could to the offensive line.  Brad Butler, who was last season's starting right tackle, announced his retirement last month and starting left tackle Demetrius Bell is coming off a knee injury that required surgery last season. Green now joins the mix at tackle with  Bell, Jamon Meredith, Kirk Chambers, and Andre Ramsey.  Green is penciled in as the starter at right tackle with the departure of Butler.
Green is a 12-year veteran out of Central Florida.  The 6-foot-6 315 pound tackle has played for four teams, most recently with the Oakland Raiders the past three seasons.  He started all 16 games in 2008 and 12 games last season, but missed four games with a calf injury.  Green will turn 34 in August.  He began his career with the New York Jets as an undrafted rookie.  Green also has played for Denver and twice played with Tampa Bay.