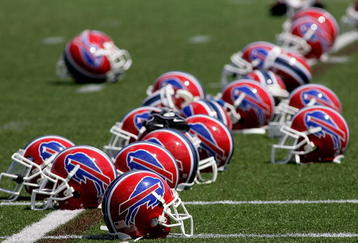 While we have no idea who the Buffalo Bills with select with their first round draft selection, perhaps now with the recent and a bit surprising retirement of starting right tackle Brad Butler we know which way the Bills' brain trust is starting to lean towards.
Many among the Bills nation were expecting to hear an announcement from defensive end Aaron Schobel, who has hinted at retiring though as of this date has yet to decide his fate.  So Butler's decision to walk away from the NFL after four years was clearly a curve ball.  Butler has made his peace with the game and appears as though he's taking his life in another direction, to pursue greater interests away from the gridiron.  I wish him the best.  Life's too short not to truly do what you're heart desires.
That being said, now in just two short years the Bills have exactly zero offensive linemen left on the roster from their 2008 unit.  The 2008 line had the likes of Derrick Dockery, Langston Walker, Jason Peters, Duke Preston, Melvin Fowler, and Butler.  Butler was the only lineman left of that group once the 2009 season began.
If the season were to start today, the Bills would have Demetrius Bell, Jamon Meredith and Jonathan Scott to compete for their two starting tackle positions.  It's been well documented the problems the Bills have had along the offensive line, but they should be so lucky to have that be their only problem this offseason.  When you're in a position the Bills are, when you have talent you can't afford to lose it.  Butler's decision to turn in his shoulder pads and helmet further adds to the Bills' troubles on the offensive line.
Buffalo is switching to a 3-4 defense under new defensive coordinator George Edwards, and they'll be in the market for a nose tackle via the draft or free agency.  The linebacking core is in need of a long overdue makeover, and maybe their biggest bugaboo is the mediocre merry-go-round at quarterback.
But now it appears as though the Bills will have other choice but to use their 9th overall draft pick on the best offensive lineman available.  And I'd expect them to select more than one offensive lineman in first few rounds come draft day.  For the second straight season, the Bills are facing the prospect of having new and different players at the tackle spots than the previous year.
Even if Butler didn't retire and returned in 2010, the offensive line was still a major priority, but now it  becomes the top objective for GM Buddy Nix and his front office mates.  It's probably safe to put an end to the dreams of drafting Jimmy Clausen, Sam Bradford or Rolando McClain.  Expect the Bills' 2010 draft to oriented largely around fixing the offensive and defensive lines.